The Ukrainian people have been suffering under the Russian invasion for nearly two months. During this time, millions of Ukrainians became immigrants and refugees. Despite the level of danger and continuing attacks, many of them are slowly returning to their homes now. So, too, with Ukrainian jewelers. I have established warm relationships with many of them, and even though I'm not in the worst situation, they took the time to worry about me and offered help.
The international jewelry community was moved and touched by stories from the first photo essay AJF published about Ukrainian jewelers. Two brave women, Maia Merav Holtzman and Helena Blanchet, with my participation, launched the initiative Artist Refugee Transition to connect jewelers who need help with those persons, institutions, and organization that can provide it.
Updates
The first photo essay published almost a month ago, so let's find out what has happened with its heroes since then.
Danylo Lychko said that during this month a Ukrainian jewelry community has grown and become really helpful. They share instruments and materials inside the country.
Denis Muzyka and Kateryna Muzyka recently reopened their jewelry school in Kyiv. They've also started to help the Ukrainian jewelry community by raising funds earmarked for those who have stayed in Ukraine.
Oleg Pavlyk is in Lviv and now making pendant charms called Ghost of Kyiv, in the shape of a Mikoyan MiG-29 plane. This plane flies over Kyiv shooting down enemy planes and missiles and defending the city, so Pavylyk decided to make it into a symbolic charm in silver, as an amulet to protect its owner from the negative effects of war.
Sergey and Lilia Zhernov found a place to work in Geneva thanks to the international community and met with Bruna Hauer, director of Friends of Carlotta Gallery, with whom they are planning to produce an exhibition.
Maya Kotelnitskaya is still in Lviv and continues to work. She is waiting for enamels from abroad. They will enlarge her technical possibilities.
Logvin Jewelry received huge support from Romanian Jewelry Week and had the opportunity to exhibit their pieces with Assamblage Association in Bucharest.
Myroslava Kozar is in Lviv, continuing to help and work in her workshop. She now engraves "I am a Ukrainian" on her classic Saturn earrings. Kozar donates 30% of sales to the Armed Forces of Ukraine.
Katerina, from Kontorasisters Jewelry, went through Poland to Portugal and is now living in a friend's apartment. She has applied for temporary shelter and has contacted a local jeweler from whom she hopes to get support in the form of a workspace.
Lena Yastreb, founder of Yastreb Jewelry, is now in Germany with her mother and nephews. They are safe but without a livelihood. Lena is researching the possibilities of selling jewelry abroad and plans to return to Ukraine in few weeks. She started an NFT project to raise money for needs in Ukraine.
Guzema Fine Jewelry gives all profits from their sales to Ukrainian people and the army. They emphasize that during the war more than 10,000 marriages were registered in Ukraine, so they continue to produce wedding rings as well.
Kochut Jewelry made a collection featuring a trident, the national emblem of Ukraine, and donated 100% of profits to the Ukrainian Army.
Anna Yasynska notes that people have started to buy and order jewelry more and more often now. She donates 30% of profits to any organization the customer chooses to support Ukraine.
I've had no news from Nataliia Koval and fervently hope that she's ok.
Now let's meet some more Ukrainian jewelers.
"I am a school psychologist and an English teacher by my first degree. Then I obtained a manufacturing jeweler diploma and specialized in jewelry fitting and fixing," explains Ekaterina Titowa. "In 2014, the military conflict began in in my hometown of Donetsk, so all my family had to leave for Bucha. In 2019 we bought a house in Gostomel. We changed everything there, made repairs ourselves. I equipped a separate studio for myself." | Titowa Jewelry, brooch, copper, acrylic glass, 2.5 x 1.5 inches, 2021, photo: artist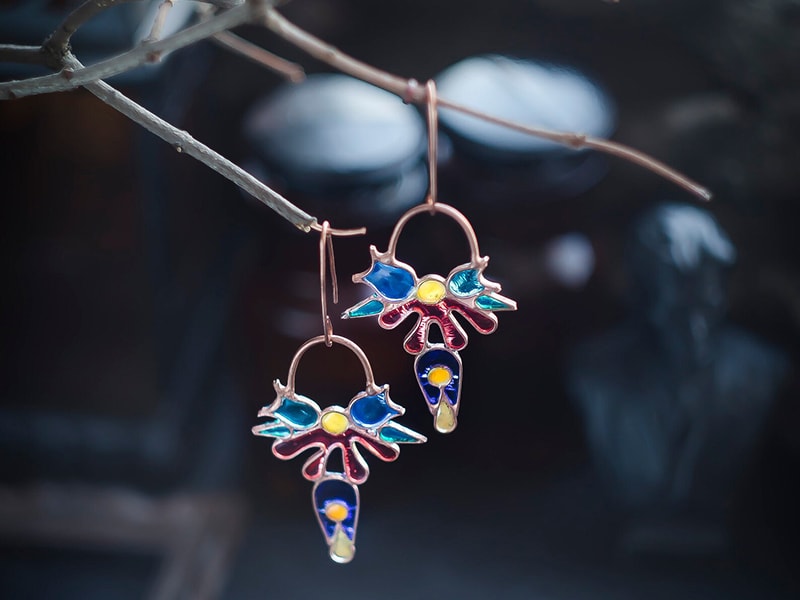 "On March 4, 2022," says Titowa, "a bomb flew into the studio and demolished half of the building. Two more explosions blew out all the windows in the house and turned the front door into a tin can. We had to save our children and ourselves. We put our belongings into three backpacks, took our documents, and ran away. Now we are in Vinnytsia, in somebody else's apartment. I have absolutely nothing but ideas. I understand that all I can do is just work with wax. I'll start with it. Regarding wax, I received a lot of help from Ukrainian artisans." INFO: @titowa_jewelry, shop on etsy | Titowa Jewelry, earrings, copper, acrylic glass, 3 x 1 inches, 2021 photo: artist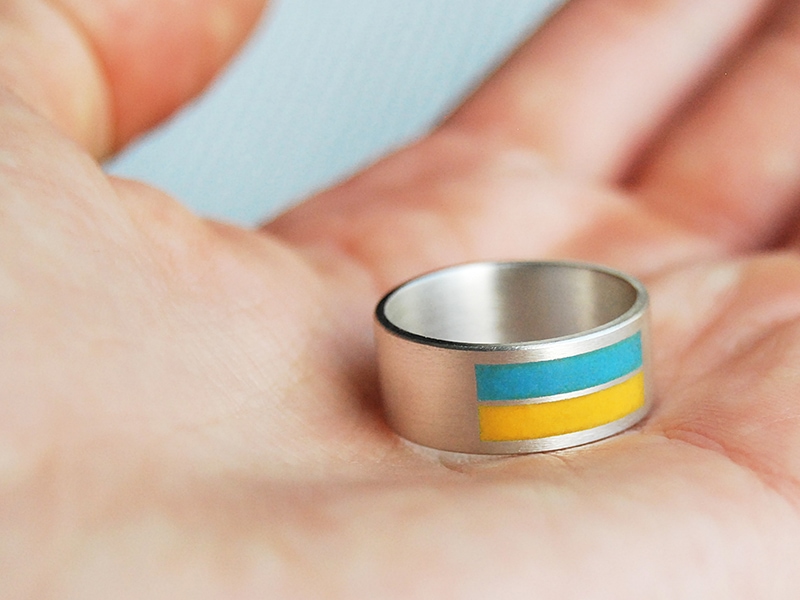 "I studied management," says Dari brand's founder, Dari Chernikova. "Then I went to the Academy of Arts, where I studied architecture in the Department of Painting and Advertising. Then I decided to get a jeweler's education. I made jewelry with Ukrainian symbols during the annexation of Crimea and the occupation of Donbass. Now I show them to the world again. I repainted the enamel on some old jewelry in yellow and blue using Photoshop. It's not possible to make new jewelry now." Note that Platina Stockholm will feature this ring in the next On Offer. | Dari jewelry, Independent, 2014, ring, white gold or silver, enamel, 2014, photo: artist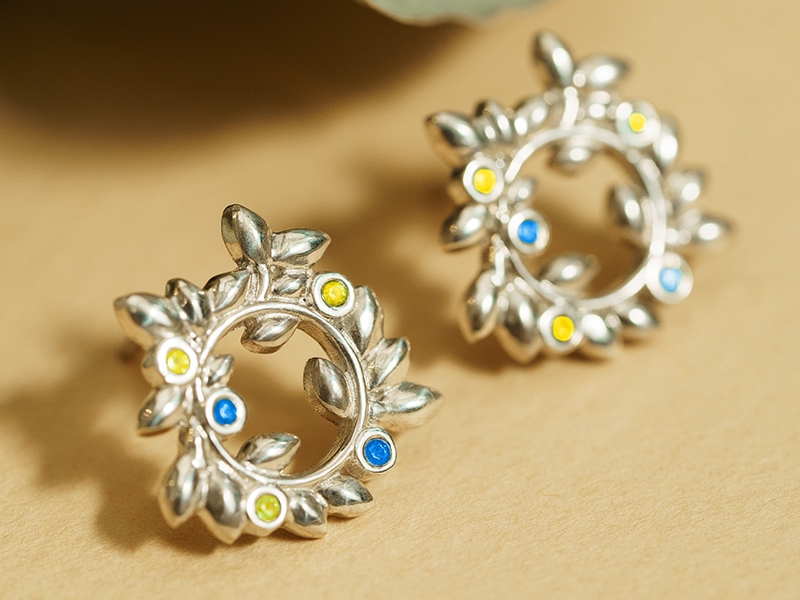 "Currently, I have left my city, Kyiv, and the workshop is closed for now," says Chernikova. "I rent an apartment in Lviv but want to return to Kyiv when it's safe. I try to work, sell pieces little by little. At the request of clients, I send 10% of the price to the Armed Forces. We need financial help: I would like to pay the salary that workers received in peacetime, I would like to be able to work for some time after the victory without fear of paying rent for the workshop and have a reserve of money to advertise products for the first time." INFO: https://darijewelry.com/en/, @darijewelry | Dari jewelry, Wreath, 2021, earrings, gold, precious stones, 2021, photo: artist
"On the first day of the war I was traveling around Iceland," says Elena Osadchaya, the owner of the brand Ellen Rococo. "On February 25 I had a flight back to Kyiv but air communication with the city closed. All my friends and relatives urged me to stay in Europe, but I felt like I should be in Kyiv. 'While I'm in Kyiv, nothing will happen to the city!,' sounded in my head. With this thought I spent four long days racing to Kyiv through different cities, countries, and borders. When I arrived, I had to spend the night at the train station, as I got into a curfew, the longest night of my life." | Elena Osadchaya (Ellen Rococo), Heart of the Beholder, 2021, earrings, polymer clay, glass, metal, photo: artist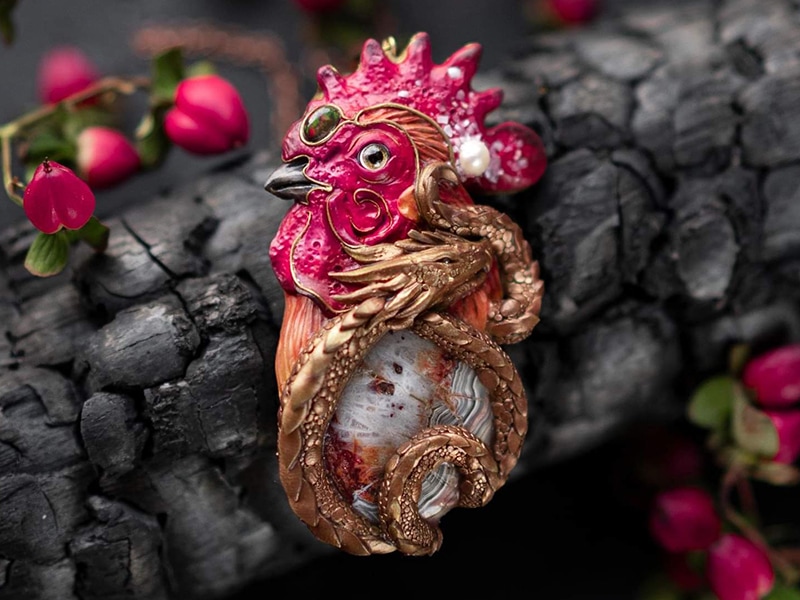 Osadchaya continues to say, "I signed up for a volunteer group and started helping aged people and mothers with many children with food, necessary things, medicine. I also started doing social art: painting tubes of mortar shells. I don't plan to move away Ukraine and never planned to. This is my home, my roots, my heart. I would be grateful for information on exhibitions and projects abroad in which I could participate. Since 2013 I have been selling my products abroad, and I would like to establish relations with the world market even further." INFO: https://en.ellenrococo.com/, @ellenrococo | Elena Osadchaya (Ellen Rococo), Birth of Basilisk, 2021, necklace, polymer clay, landscape jasper, opal, glass, metal, photo: artist
"I'm not a professional jeweler," says Mariya Eimanavicius, of Upcycling Freaks, "and overall don't feel like doing something professional and sophisticated. This hobby formed when I was pregnant with my daughter, in 2018. I was much involved in environmental pollution issues and then suddenly woke up with an idea to make a necklace using my older daughter's toys, which were all around our apartment, and my old earrings." | Mariya Eimanavicius (Upcycling Freaks), A Shaggy Woman, 2021, necklace, pom-poms bought second hand, doll parts, technique: freaky upcycling, photo: artist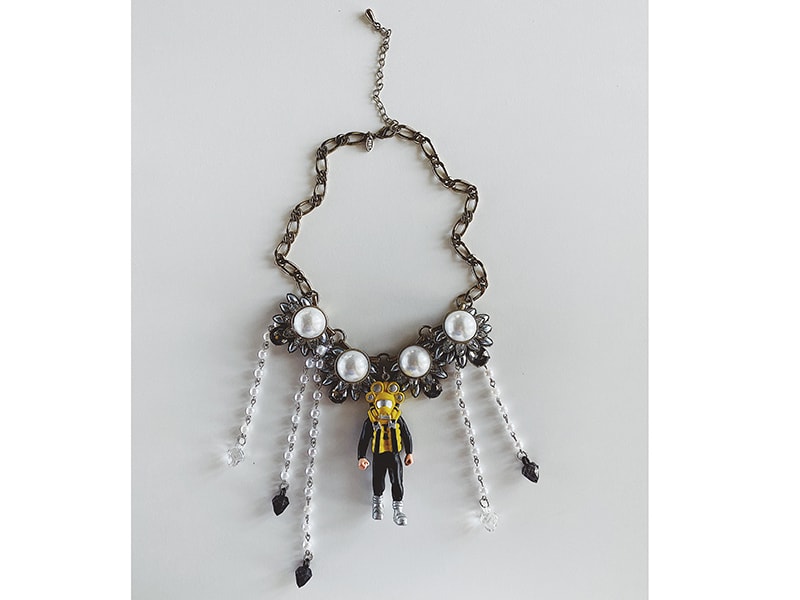 "I was forced to leave my city, Kyiv, together with my family the day the war started," says Eimanavicius. "Currently I'm in Lithuania and trying to come back to work. I continue helping Ukraine by donating money to support the Ukrainian army and civilians. Also, I'm now creating messages, collages, or jewelry pieces that say that Ukraine will win this war and shine even brighter afterward. I would appreciate support in promoting my Etsy store, or help with a list of potential stockists in Europe." INFO: https://www.etsy.com/shop/UpcyclingFreaksStore, @upcycling_freaks | Mariya Eimanavicius (Upcycling Freaks), Fantastic Tales, 2021, necklace, broken and recovered Marks and Spencer necklace, pearl streamers, toy bought in Kyiv's Petrovka flea market, photo: artist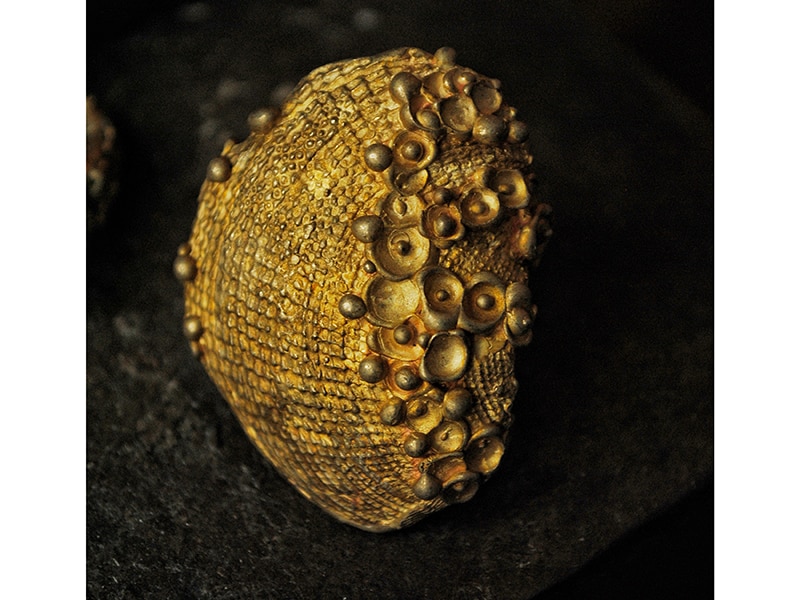 "At the age of 17," says Anna Malishevskaya, "I entered the jewelry academy. I was already working as a graphic designer, so I was [hired by] a jewelry workshop to work as a 3d modeler of jewelry for subsequent printing and casting. Now I'm in Odessa, my hometown. I continue to create jewelry and also participate remotely in a volunteer organization. I can work in my workshop and I have almost all the right conditions, but sometimes I need the help of other people, and it's important that they be available now—a caster, for example. There are certain limitations on the possibilities now, but I love challenges!" | Anna Malishevskaya, ring, 2021, brass, wax modeling, photo courtesy of the artist
"Markets are gradually starting to work in Odessa," says Malishevskaya, "so the search for consumables has become a little easier. My first order at the beginning of the war was wedding rings for the guys from the defense industry. It was a clear signal to me that life goes on. At the moment, I don't plan to leave. My workshop, friends, and the people who can help in the jewelry business live here." INFO: https://www.etsy.com/shop/AnnaMalishevskaya, @malishevskaya.art | Anna Malishevskaya, ring from the collection Coral Myth, 2019, silver, wax modeling, casting, photo courtesy of the artist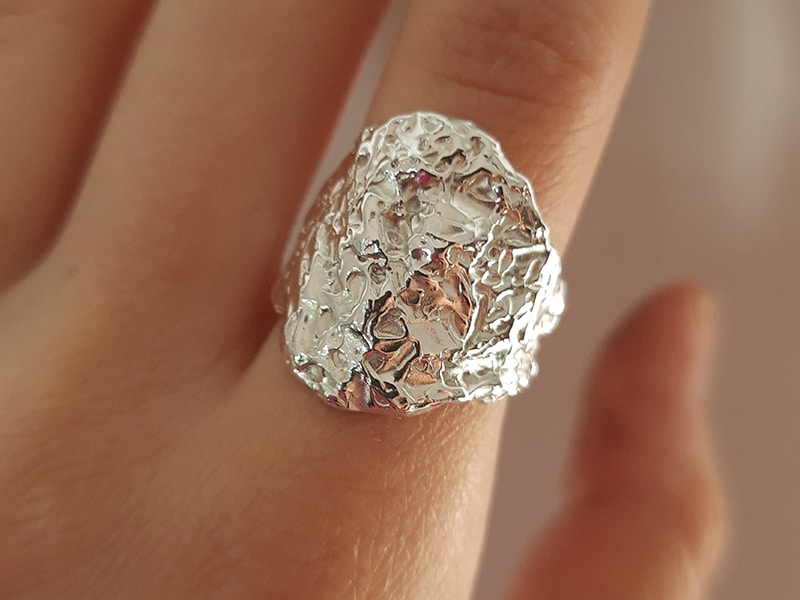 "At the beginning of the war I decided not to go anywhere," says Katerina Basenko , of Basenko Jewellery. "My colleagues and I stayed in Lviv. Work stopped temporarily, we volunteered, wove nets, and helped people fleeing cities where it was really dangerous. During the war I continue to help everyone who needs it, and I work in our workshop on new projects, orders, and patriotic jewelry. I help the army and the country by giving almost half of the money from orders to volunteers for humanitarian aid and the Armed Forces. Moving is out of the question. I love what I do too much to leave it all, and I am grateful that I have every opportunity to continue to create." | Basenko Jewellery, Foil Ring, silver, hot modeling on wax, photo: artist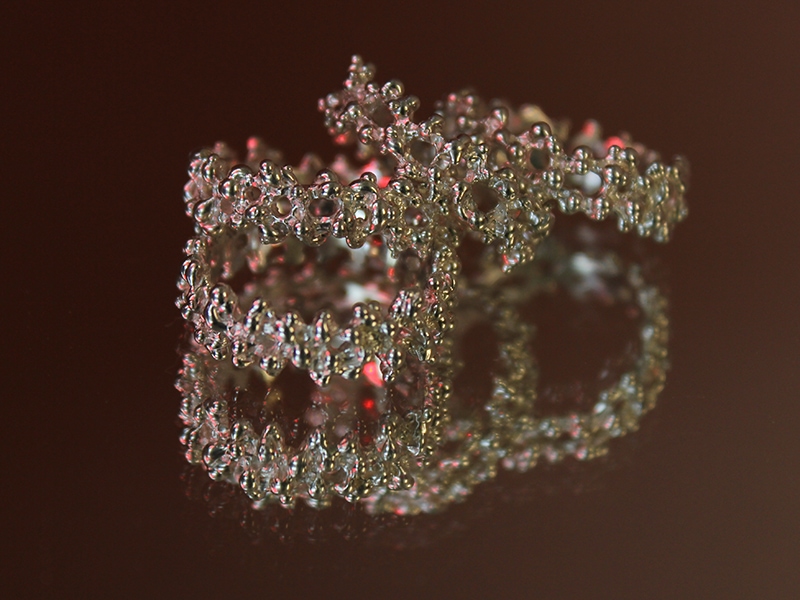 "I studied at the Lviv National Academy of Arts, Department of Artistic Metal," says Basenko. "That is not only the art of jewelry, but also small forms and work in the smithy. My first education was pedagogical. I am a teacher of fine arts and for some time thought that I would teach children to draw and develop their talents." INFO: @basenko_jewellery | Basenko Jewellery, Bubble Ring, silver, hot modeling on wax, photo: Elizabeth Perekhodyuk, @perehoduchka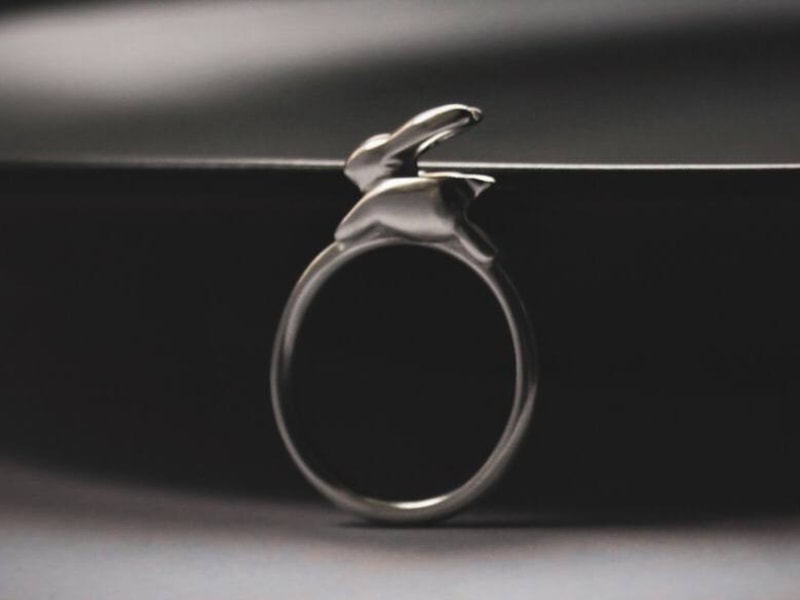 "I was born and raised in Mirgorod," says Nataliya Zefir. "In 2009 I moved to Lviv, where I graduated from the Academy of Arts, Department of Artistic Metal. In 2014 I created my own workshop where I united a team of creative people. From the first day of the war, I definitely decided to stay in Lviv to help those who are now more in need. I became a volunteer and started to help to find accommodations for those fleeing from the bombing and shooting. I place families in my apartment temporarily until they find a place to live, trying to provide them with everything necessary to make them feel comfortable." | Nataliya Zefir, Little Hare, 2021, ring silver, wax carving, photo courtesy of the artist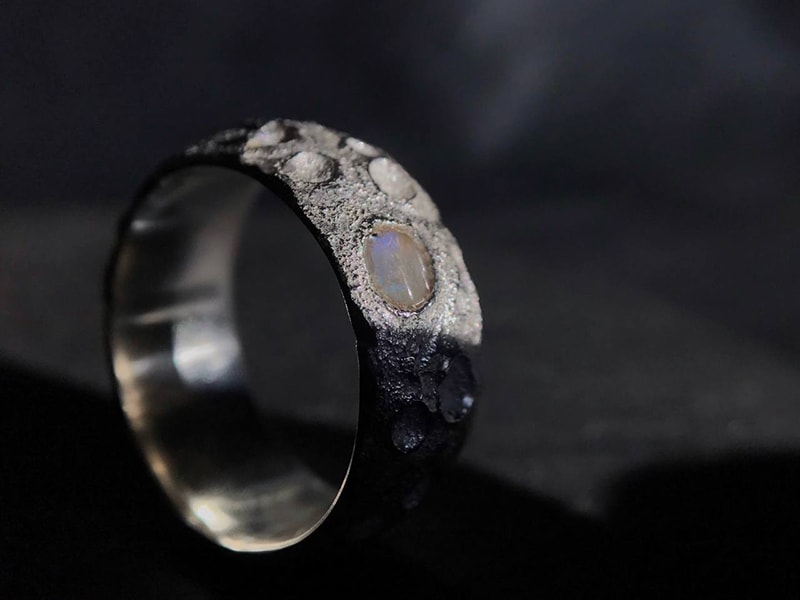 Zefir says that during the first month of the war, things were so chaotic that she had no time to make jewelry. "But now I am slowly returning to my favorite work in the workshop. I am working on a few pieces dedicated to the war in Ukraine. I will send the most successful ones to Ukrainian soldiers fighting on the front line in gratitude for their courage. I transfer 40% of the price of the products that I'm currently working on to the Armed Forces of Ukraine. I believe in the victory of Ukraine!" INFO: @zefir.jewelry | Nataliya Zefir, Moon, 2021, ring, silver, moonstone, reticulation, photo courtesy of the artist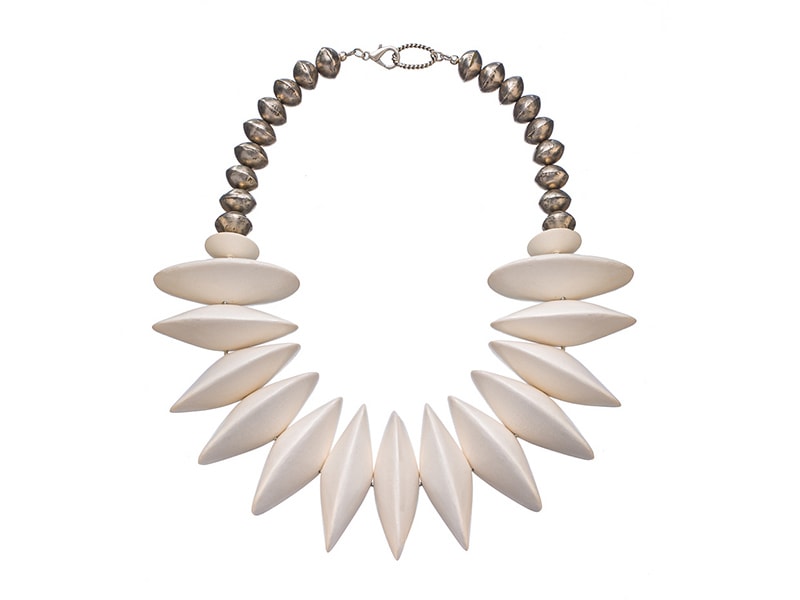 "Psychology and jewelry design are closely related for me, and it's not surprising as I have a master's degree in psychology," says Larysa Chiglintseva, of TrèsCode. "I feel like it's extremely important to wear only those jewels that are pleasant to one's eye and that also link with self-awareness and reflect the true intentions. The war caught us preparing another batch of jewels for a conceptual shop of Ukrainian jewel designers called LvivOpenStore." | TrèsCode, Galaxy necklace, from the Island collection, 2021, hollow brass beads, wood, photo: Dmytro Herasymeniuk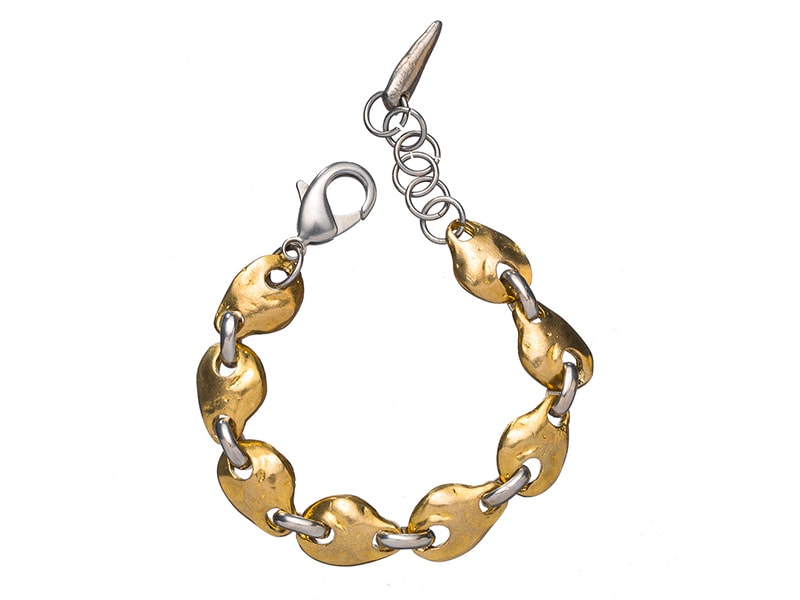 "We have decided to stay in Kyiv with our entire family," says Chiglintseva, "including my mother, who is 86 (she has refused to leave her home). I'm currently helping those who are unfortunately in a worse situation than me and my family. Myself and my assistant transferred all the money we could afford to support our Armed Forces at the very beginning of the war. As long as we currently don't have any sales in the domestic market, I'm interested in developing my foreign sales channels, as well as contacts with galleries or boutiques abroad who would be interested in a partnership." INFO: https://trescode4you.com/, @trescode4you | TrèsCode, brass chain bracelet from the Island collection, 2021, partially plated, casting, photo: Dmytro Herasymeniuk
"We decided to stay in Kyiv and moved to live in a workshop in the center of the city, in the basement," says Tetiana Chorna. "Not only is it safer here, it is also our place of strength. Together with my husband, we first helped our relatives and closest friends." | Tetiana Chorna, brooches-pendants from the collection Reflections on the Life and Death of the Gorgon Medusa or Reflections on Rebirth, 2022, bleached sterling silver, casting, photo: artist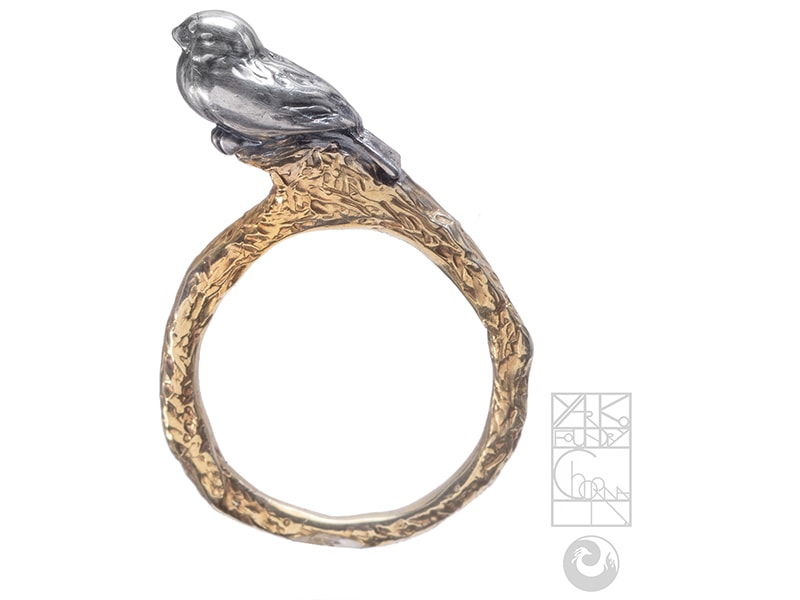 "I thought I could no longer make jewelry. I just couldn't. I started to draw posters and make short cartoons, naive, funny. It was my attempt to resist fear and despair. And then," says Chorna, "the guys from Territorial Defense and the Right Sector asked me to make amulets for them. This made me pull myself together and start making jewelry again. Now I am trying, together with jewelers and artists, to creatively illuminate what is happening in Ukraine. We try to show Ukraine abroad as a strong, talented, creative nation. We are looking for opportunities to earn money to help each other, our soldiers, and the country. I plan to stay in Kyiv until the victory. And, if necessary, defend it." INFO: https://www.tetianachorna.com/, @tetianachorna.jewelry | Tetiana Chorna, Bird ring, from the Birds collection, co-authored with Vladimir Yarmusevich, 2018, oxidized sterling silver, gilding, casting, photo: Eugene Chorny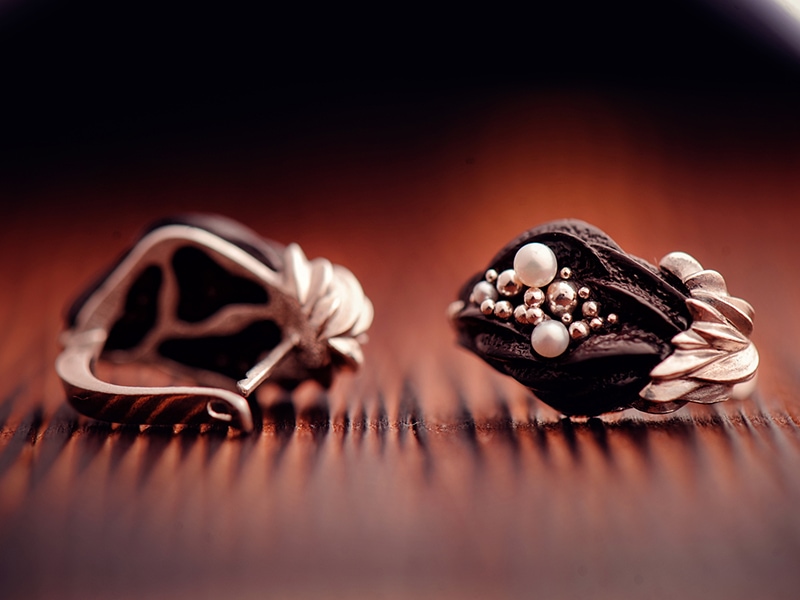 "Starting in 2013, I engaged in wood carving," says Artyom Mochulskij, "but there were big pauses in my work. For the past few years, I've been working in production in order to develop professional skills and gain experience. I studied everything myself. I work in different jewelry techniques, and also work with titanium and stone, in addition to wood. Today I am in the Nikolaev region, in the village. I came from Odessa to visit my parents. Due to the war I cannot leave yet. We deliver food and cook for the soldiers as well. But everyone here does it, so it's not a special feat." | Amaroq Jewelry, earrings, 2020, sterling silver, African ebony, silver 999, river pearls, photo courtesy of the artist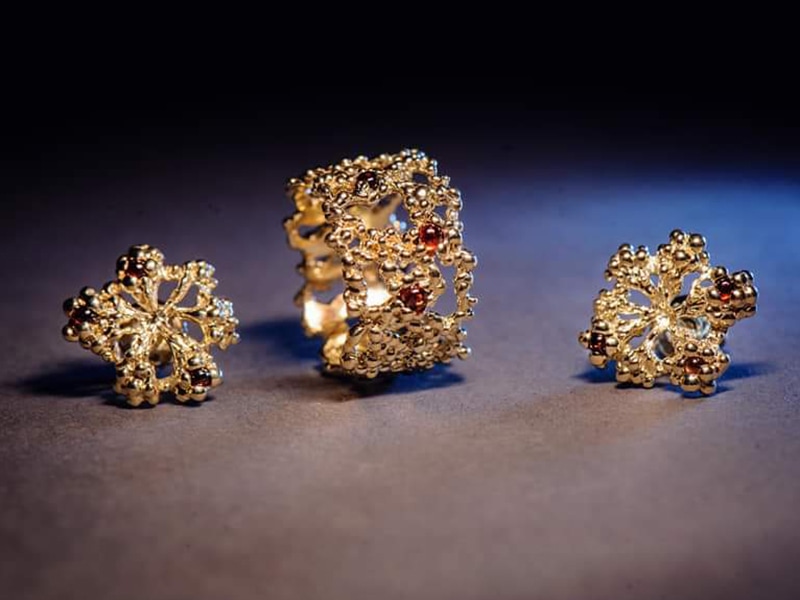 "Today my family and I are fine," says Mochulskij. "But I don't have a job yet. If you like my work, you can subscribe. After the war, I will try to develop my brand. I will need customers not only from my country. If you have the desire, make a pre-order. Part of the money will go to help people affected by the war. As soon as I can, I will make jewelry for the purpose of charity sales." INFO: @__amaroq_jewelry__ | Amaroq Jewelry, set of earrings and ring, 585 lemon gold, cabochon-cut garnets, photo courtesy of the artist
Konstantin Lisakovsky, the creator of the brand Flora and the author of all its jewelry, spent part of his childhood in the tundra, where he learned to love spring and gained the ability to wait. Lisakovsky learned to turn any plant into metal, and also to give natural shades to silver, growing minerals on the surface of the jewelry. The brand's collection includes about 9,000 unique handmade products. Anna Rybak, Flora's manager, describes the situation in their part of Ukraine: "Now we are in territorial defense in Western Ukraine, in the Carpathian region. It's quite calm here. In this area, people are engaged in patrolling, guarding checkpoints." | Flora jewelry, Hydrangea, 2019, earrings, real hydrangea covered with sterling silver and signature minerals, photo: artist
"Women weave camouflage nets," says Rybak. "People donate blood, help with transportation if they have a car. [But] our production facility, like our house, was located near the tank-repair plant. A few days ago our colleague said that the plant had been blown up, so we don't know if our laboratory and house remain intact. We cannot produce anything new now, but we took about a hundred products with us. Now we're looking for foreign galleries and venues for the sale of our products, for exhibitions and long term partnership." INFO: https://flora.jewelry/, https://www.instagram.com/floraworldwide/ | Flora jewelry, Cherry Blossom, 2020, ring, real cherry blossom covered with gold, photo by artist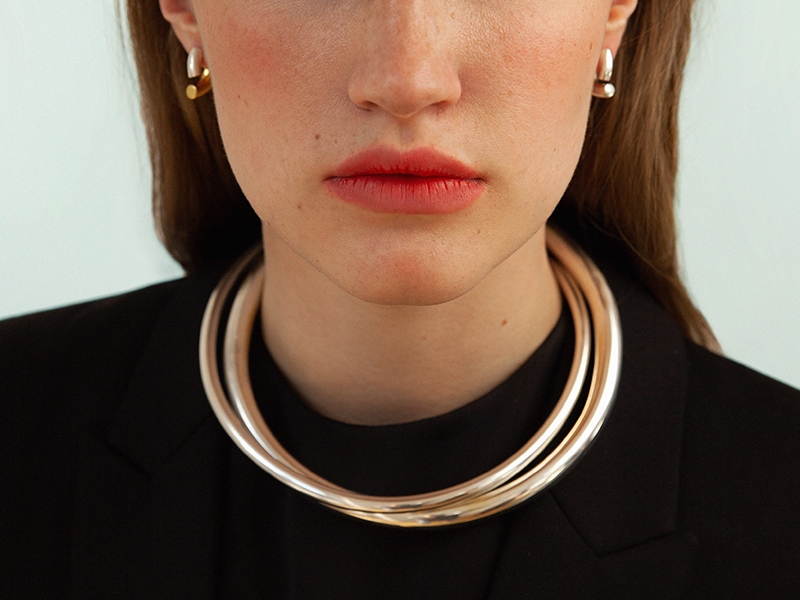 "Bruá was created in Lviv in 2017 by a team of artists," says Aleksandra Vdovina, the brand's co-founder. "We identify our products not even as jewelry, but rather as sculptures, as an integral element in space, and in this regard—to a human. We were inspired by the idea that products could be a continuation of a human body and follow its curves and smoothness." | Bruá, Necklace, 2021, sterling silver,  24-karat gold plate, design jewelry casting, model: Marta Marchand, creative assistant: Mariana Shvets, creative director: Oleksandra Vdovina, photo: Olena Livshuk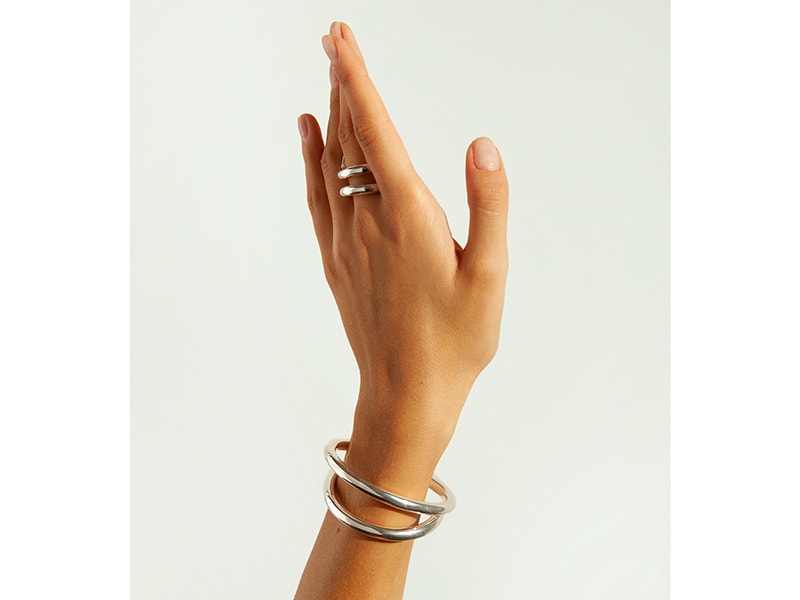 "What is happening now?" Vdovina asks rhetorically. "There's no trace of our former lives, there is no stability and understanding of what will happen tomorrow. The schedule has changed, the team has been transformed. But we do our best to nurture our brainchild, our brand, every day. This is our voice, the voice of our culture, the voice of the country as well. Our entire team is involved in volunteering. Everyone does what he or she is capable of. Some defend the city, other weave nets and construct anti-tank structures from metal, some feed those who need it. Others distribute information in the media. We help our armed forces financially, too, we donate a percentage of sales. We also help both people and animals. It is our duty." INFO: http://brua.store/, @brua_jewellery | Bruá, rings, bracelets, 2021, sterling silver, design jewelry casting, hand model: Oleksandra Vdovina, creative assistant: Mariana Shvets, photo: Olena Livshuk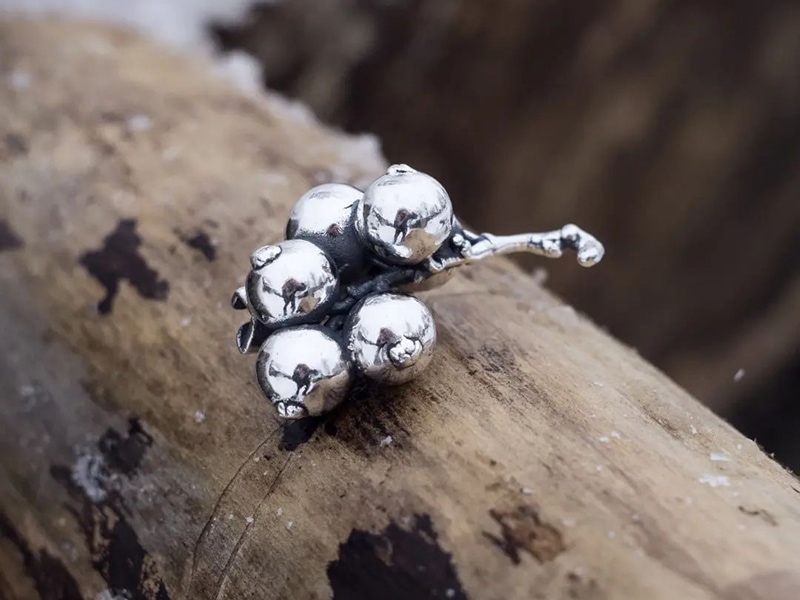 "I am not now engaged in the creation of jewelry," says Vladimir Sytnik, of Baklatifon Jewelry, "but I am convinced that I am where I should be. I cook in the kitchen and manage its work. Our team began this on March 3. The organizers of this volunteer movement, Roman and Yegor, used to be foremen at a construction site, and now they are responsible for supply, transportation, search for premises and other necessary resources and equipment. Part of our team prepares meals. The rest bring provisions by cars, deliver food, evacuate people from dangerous areas—in general work in the 'field.'" | Vladimir Sytnik (Baklatifon Jewelry), brooch, 2022, silver, galvanoplastics, photo: artist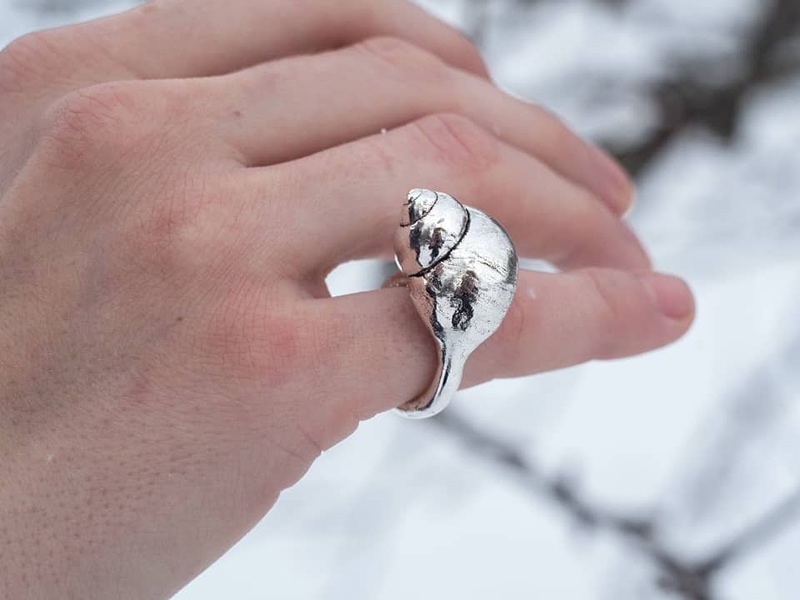 "There are about 20 permanent members in our team. Some have been with us since day one, some came later, some joined recently," says Sytnik. "The main tasks that we set for ourselves are to provide food for the city hospitals, and deliver food rations, ready-made food, and medicines to the residents of Kharkiv. From the first day of work, I have been keeping a 'diary' of our volunteer team, publishing reports on the volume of work performed. Will be happy for your support." INFO: @baklatifon_jewelry | Vladimir Sytnik (Baklatifon Jewelry), ring, 2022, silver, galvanoplastics, photo: artist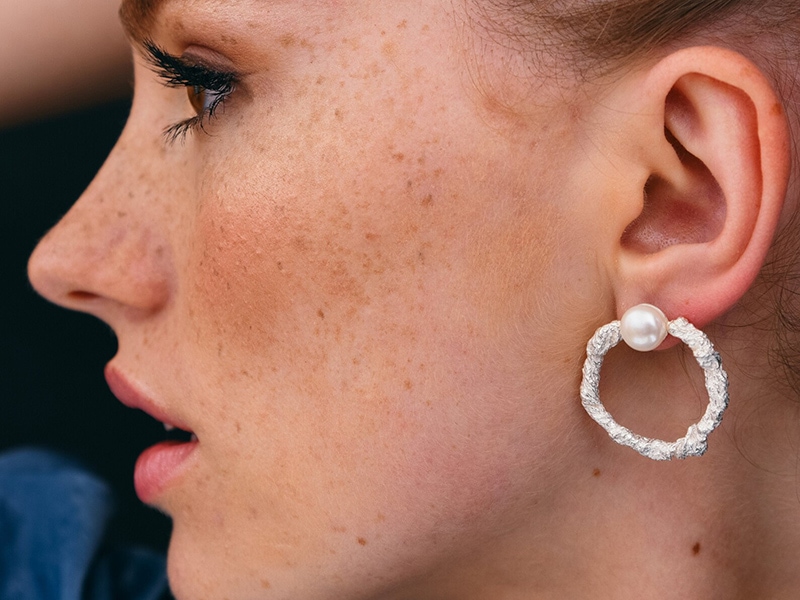 "I am in Lviv now and I can work. My workshop is on the same level as the shelter into which all the residents of the house go down for safety. So I have the opportunity to work despite the air raid sirens," explains Maria Karavaeva. "My clients now are mostly foreigners. Orders are coming from England, Israel, and America, with words of support. It's very touching that people don't stay away and [instead] look for ways to help Ukrainian businesses." | Karavaeva Glass, earrings, 2019, silver, pearls, photo by @elcansky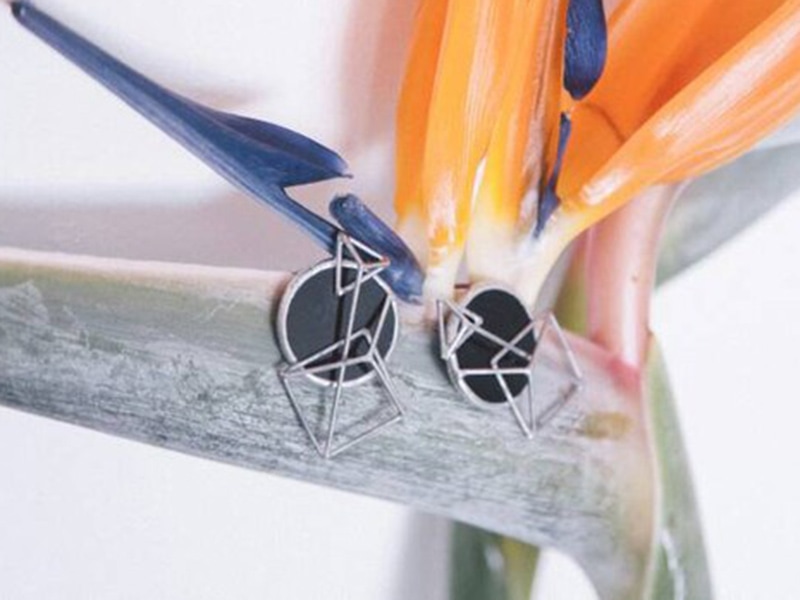 "As I learned that international traffic had resumed," says Karavaeva, "a second breath was opened. Now I work much more productively, I feel my duty in it. I donate money constantly, can't say whether it's 50 percent or more, I send it for food needs and the army's support. There are hospitals where there were problems with food in Kharkiv, there are also zoos in very difficult conditions. There are our soldiers, who still need modern equipment. I am proud of how we help the country and am very grateful for the support of the world community." INFO: @karavaeva_glass, etsy shop | Karavaeva Glass, earrings, 2019, copper, glass, photo courtesy of the artist
"I was led to jewelry by a narrow path," says Sergey Tarasov, of Mosst. "There were always people who helped, taught, supported, which ultimately led to the crystallization of my style. I am now on the move in Ukraine helping those who need it. My jewelry tools are now in another city and there is access to them, but now the need is for other more relevant actions. Now is the time to check your values, the choices you made earlier, the consistency of words and deeds. What is happening in Ukraine now is magically baring the world like a global MRI." | Mosst jewellery, ring, 2020, silver, brass, rudraksha seed, photo: Maya Li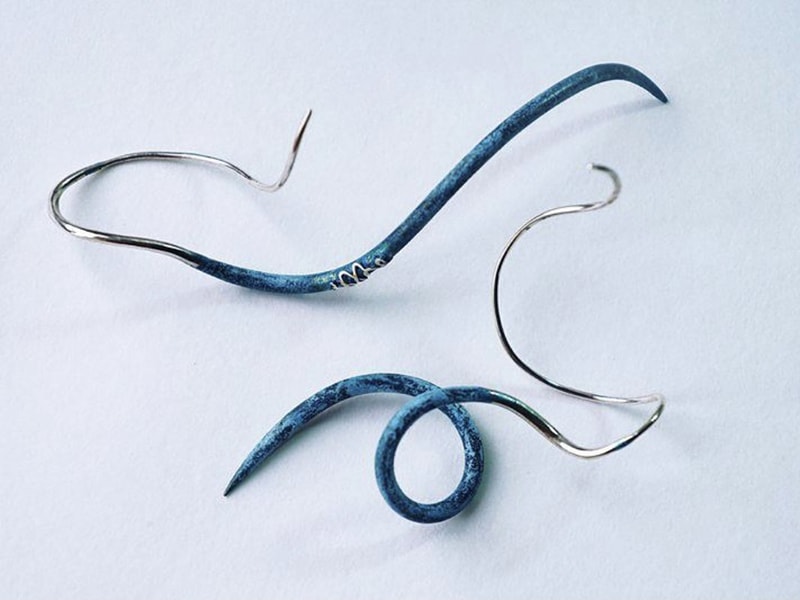 "I am grateful to the closest being, a strong and kind friend—Earth," says Tarasov. "I thank it and ask the planet: In this human madness, when almost everyone is ready to conceitedly shout to you, 'you are mine,' what can I give you? You who endlessly gives everyone everything she has?" On another note, XXX continues: "Finances. If there is a possibility of such assistance, it will help to expand and continue the maximum activity within society, to contribute to the establishment of order and peace." INFO: @mosst_jewellery | Mosst jewellery, Through, 2017, earrings, silver, brass, mineralization, photo: Kamila Marant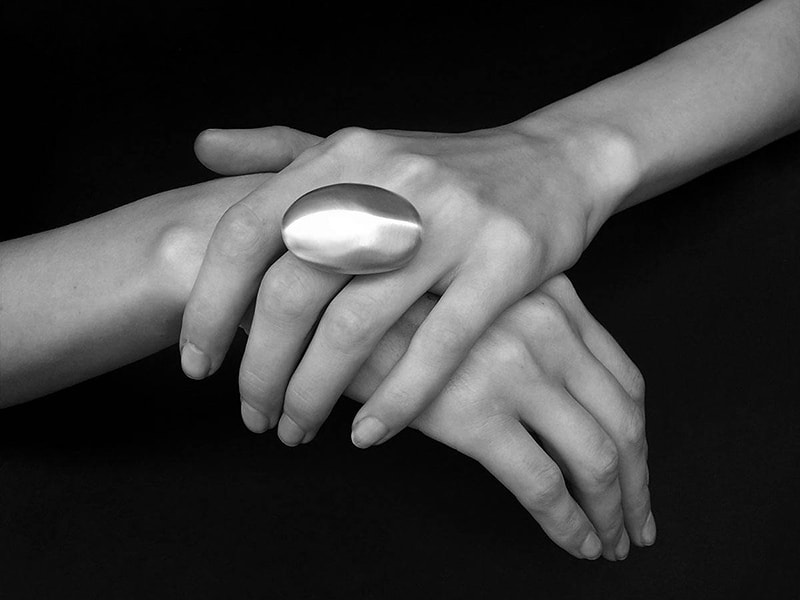 "The Gallium collection is jewelry-amulets in which the smooth naturalness of the form and the deep shine of the mirror texture are harmoniously combined," says Igor Pinigin. "A sea pebble washed by a wave. The world is reflected in the glare of water, and the soft tactility of smooth lines brings to mind warmth and peace. Thirst for wandering and a reminder of the warmth of home. Subtle harmony of the sublime and the earthly." | Igor Pinigin, ring from the Moon from Gallium series, 2021, silver, photo: Kate Phellini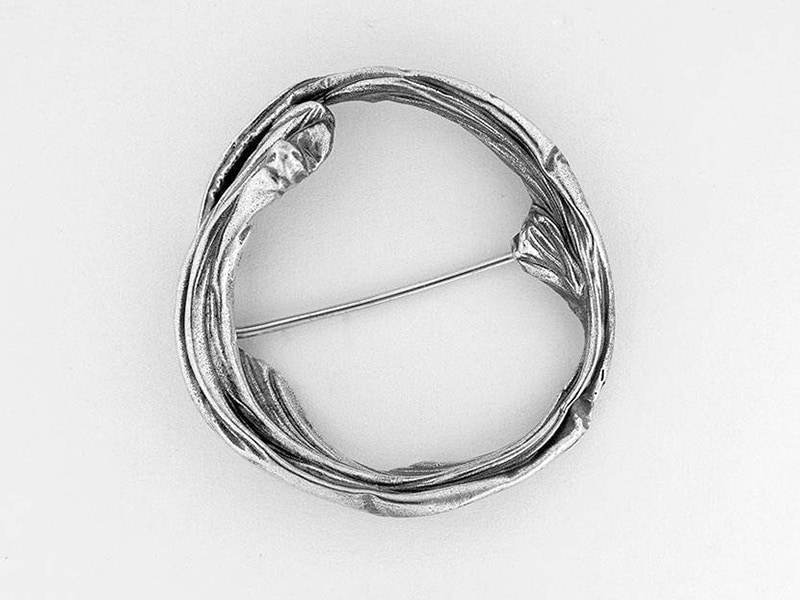 "Now I am in Western Ukraine," says Pinigin. "Away from the workshop, it's only possible to continue the work that can be done on a computer. But I plan to return to Kyiv and finish the current projects. I help my acquaintances, pensioners who have remained in Kharkov. I offer online yoga and meditation classes as well. It's more relevant now than ever." A brooch from the Fluid collection is shown above. The main idea of the collection is meeting with the shore, the whirlpool of the wave, like a daring sculptor, creates forms that delight with their expression. Stopping the moment, capturing the expression of the whirlpool of waves. INFO: https://pinigi.com/, @igorpinigin | Igor Pinigin, brooch from the Fluid series, silver, photo courtesy of the artist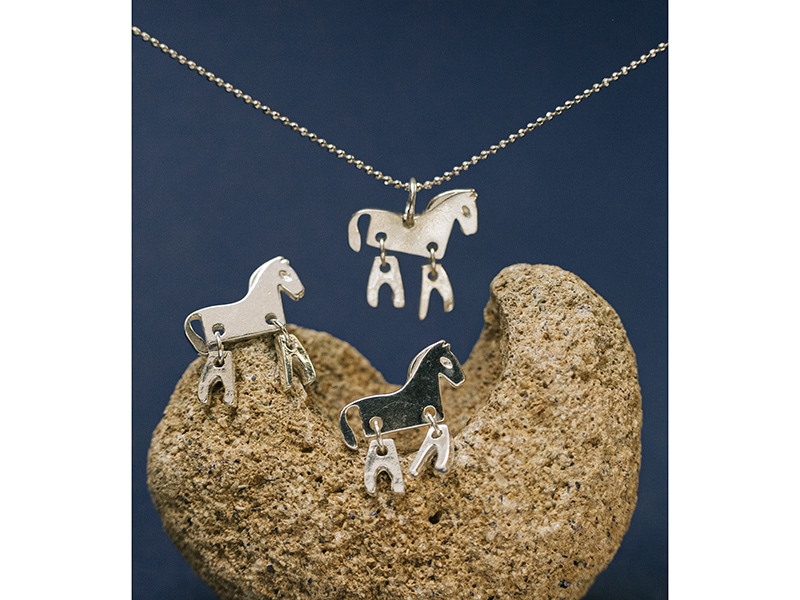 "My workshop is located in Kharkov, which has been bombed since February 24, so we had to stop work and the whole team left the city," says Kristina Ignatova, of Secret Garden. "I am now in Poltava. We pray and believe that our workshop will survive. We look forward to returning to our peaceful city, to resuming our favorite work. Incredibly, during this time we have received many orders: People want to get engaged with our rings!" | Kristina Ignatova (Secret Garden), Horses set, 2017, silver, photo: artist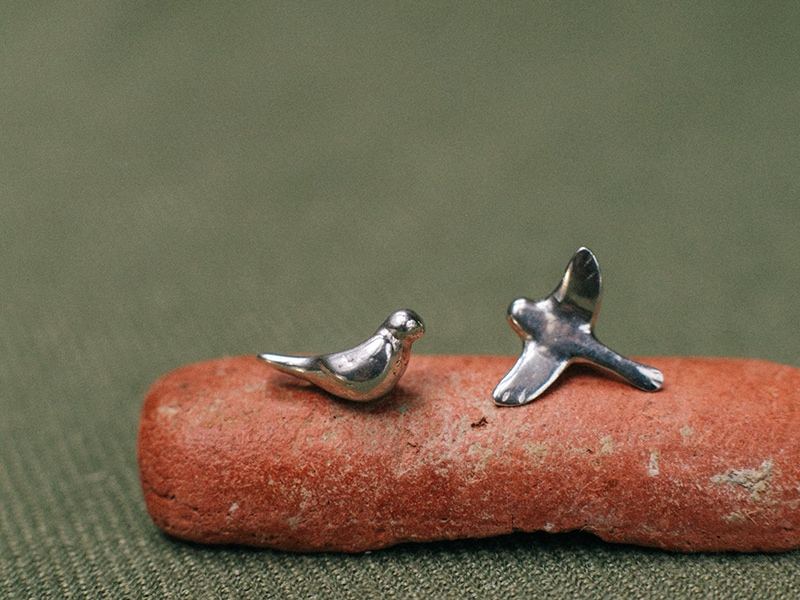 "Because our jewelry remained for sale in several showrooms in Ukraine, we decided to transfer 100% of these sales to the armed forces of Ukraine," says Ignatova. "I am a psychologist and psychotherapist by profession. Now I work for free with volunteers as a psychotherapist. Also I conduct psychotherapeutic sessions for donations—50% of this profit goes to our volunteers. I would be very happy to learn new techniques now somewhere safe. There I will need a workplace, tools, and a place to live. I would be pleased with remote professional support: I need access to jewelry wax and wax tools now. You can also support me just financially, that would also be very valuable now." INFO: @secretgarden_cat | Kristina Ignatova (Secret Garden), Birds, 2009, earrings, silver, photo: artist