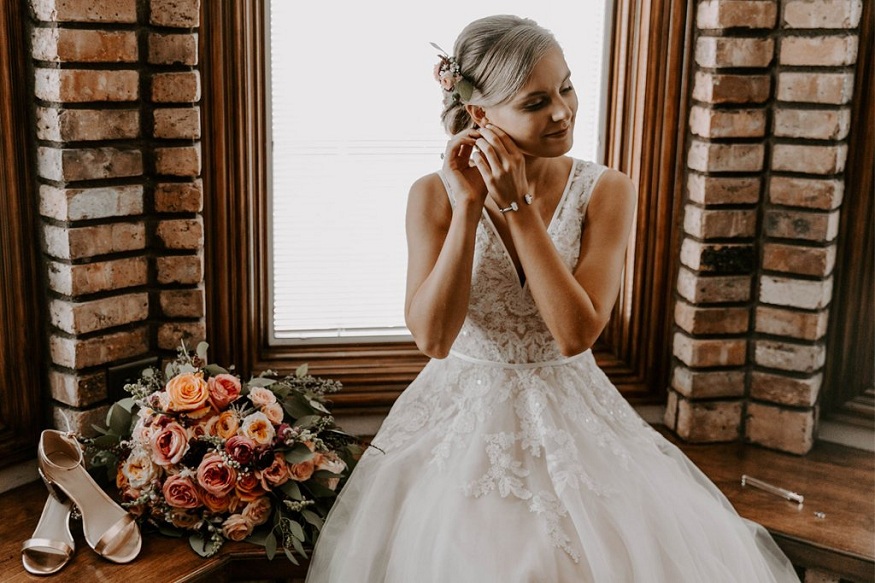 Online shopping is becoming more and more popular, and for a good reason – it's convenient, easy, and you can find just about anything you need. Wedding gowns are no exception, and you can find some great deals online. The worldwide market value of wedding dresses is expected to reach about 43.5 billion dollars by the end of this year.
However, when buying wedding dresses online, there are a few things to consider.
The following article will discuss some of the biggest mistakes you can make when choosing a wedding dress online. Avoid these mistakes, and you're sure to find the perfect dress for your big day.
Not Checking the Return Policy
Ensure you know the return policy before you make your purchase. Some stores have a no-return policy, while others only allow returns within a specific time frame. You don't want to be stuck with a dress that you can't return if it doesn't fit or if you change your mind.
Some websites even charge a restocking fee, so be sure to read the fine print before you click "buy."
A restocking fee is typically around 15-20 percent of the total cost of the dress, so it's not an insignificant amount. Restocking means the merchant takes the dress back and gives you a refund minus that percentage.
Wedding dresses can be expensive, and it's essential to protect yourself from any potential headaches down the road. Make sure you know the return policy before making your purchase.
Not Considering Your Body Type
Not all wedding dresses are created equal. Some styles look great on certain body types, while others can make you look frumpy or out of proportion.
Before shopping, take a good look at your body type and find styles that flatter your figure. If you're not sure what styles work for you, ask a friend or family member for their opinion, or consult a professional stylist.
The last thing you want is to buy a dress online that doesn't fit your body type. Not only will it be uncomfortable, but you'll also end up spending more money to get it altered.
Some common body types are:
– Apple: If you have an apple shape, you'll want to avoid dresses with a lot of volume or A-line skirts. Look for styles that cinch at the waist or have a more fitted silhouette.
– Pear: If you're pear-shaped, try to find a dress with a fuller skirt or one that flares out at the waist. It will help balance out your proportions and make you look more proportionate.
– Hourglass: If you have an hourglass shape, you're in luck – most wedding dress styles will look great on you! Just make sure to avoid anything too loose or baggy that will hide your curves.
No matter your body type, make sure to consider when choosing a wedding dress online. It will save you a lot of time and hassle in the long run.
Not Checking the Material
It's essential to check the dress's material before making your purchase. Some materials may be too delicate for everyday wear, while others may not suit a formal occasion.
You should also keep in mind that some materials are more difficult to clean than others. If you're planning on wearing your dress more than once, make sure it's made of a material that can be easily cleaned and won't require special care.
Some typical materials used for wedding dresses are:
– Satin: As a luxurious and formal fabric, satin is a heavyweight fabric that can be difficult to move in, so keep that in mind if you're planning on dancing the night away.
– Taffeta: A stiff and rusty fabric, taffeta is perfect for creating a voluminous skirt. It's also easy to clean and doesn't wrinkle easily.
– Chiffon: A sheer, lightweight fabric, chiffon is perfect for summer weddings or brides who want a flowy dress. Just keep in mind that it can be see-through, so you may need to wear a slip underneath.
– Silk: A luxurious and formal fabric, silk is often used for high-end wedding dresses. It's smooth and elegant, but it can be challenging to move in and one of the most expensive materials.
– Lace: A delicate and romantic fabric, lace is available in a variety of colors, so you can find the perfect one to match your wedding theme.
Conclusion
If you're set on buying a wedding dress online, avoid making these common mistakes. Do your research, know your budget, and what silhouette will flatter your figure the most. And always, always order a backup size. With these tips in mind, you're sure to find the perfect wedding dress.